QuickBooks Pro is a business software that will help you organize your finances in one place, which will significantly increase your work efficiency. Even though the program is not available in the Russian language, it is very easy to set up and use. With QuickBooks help, you will always be aware of all accounts, will be able to manage expenses effectively, will receive reliable financial reports, and much more. And if you have problems, you will use step-by-step instructions for creating accounts, accounting costs, etc. QuickBooks pricing is available and reasonable.
QuickBooks Online
There is a period of the trial while you can use QuickBooks online for free. It is a good chance to work with the program in a test mode. During this time, you can decide if this application corresponds to your needs and wishes. When this period ends, you should register your software. Afterward, it will be available again, and you will be able to create your account. Online registration is available.
Like payroll processing, QuickBooks also has its credit card processing service, QuickBooks Payments. You can add this feature to any QuickBooks plan; the average Commission is between 2.3% and 3.4% plus 25 cents per transaction. QuickBooks allows you to use Stripe or PayPal to process credit cards. It is very convenient for bookkeepers and accountants.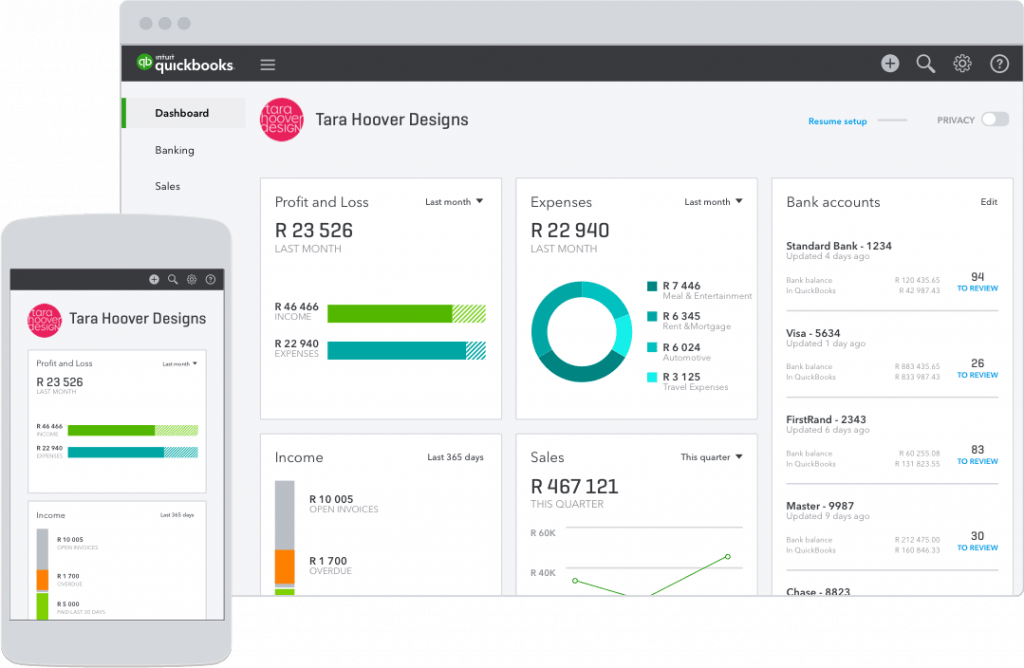 QuickBooks App
Using the QuickBooks app is very simple. Open QuickBooks Pro and click "F2" to make sure that your copy of the software is not registered yet. The word "Unregistered" appears next to your license number if you haven't registered the software yet. If you installed QuickBooks tutorial on a computer that previously had this version of QuickBooks installed, you will not need to register the software a second time.
Click Help in the menu bar, select QuickBooks Registration, and then click Start registration. Choose your own QuickBooks login and password. You will be redirected to the QuickBooks site from the QuickBooks software. If you have any problems, address QuickBooks support.
It is recommended to conduct training with the program according to the following scheme:
Getting to know QuickBooks.
The basics of GAAP. The equalization of the balance. Assets, Capital. Obligations. Receipts, Expenses, and Profits. Double-entry.
The installation procedure of the interview. General information about the company. Start date of accounting. Structure of accounts. Receipts and expenses. Balance.
Create sheets of the company. Classes. Company's chart of accounts. Creating, editing, and deleting invoices. Customers and suppliers. Goods and services. Staff. Taxes. Bank.
Business transactions. Sales. Create, edit, and delete invoices. Receipt of funds. An adjustment to the accounts. Obligations. Creating, editing, and deleting invoices for payment. Bill payment. Salary. Payment of taxes. The register of shareholders. The accounting of credits. Accounting for inventory items and fixed assets. Creating, editing, and deleting inventory items. Report the movement of goods and materials. Creating, editing, and deleting fixed assets. Accrual of depreciation.
Financial statement. Trial Balance, General Ledger. Profit and Loss Statement, Balance Sheet, Cash Flow. Treatments at the end of the year.
QuickBooks Services. Budgeting. Business planning. Financial analysis.
QuickBooks features and benefits
QuickBooks Pro Features:
Tracking status of accounts.
Check the availability of unpaid bills.
Perfect for computers with multiple monitors.
Optimization of the data files. It allows you to save space significantly.
Generating reports on project profitability.
Fast payroll payment with automatic tax calculation.
Sending one or several invoices at once in one click.
Import transaction data from banking services, PayPal, Square, and sort them.
There are also other functions; all of them are useful.
QuickBooks connector
The Quickbooks connector is a flexible and easily configurable tool that provides full synchronization of customers, products, and accounts between Creatio and the Quickbooks Finance program.
The following functionality is offered:
Two-way synchronization;
Accounts / Contacts;
Invoices;
Products in the invoices;
Synchronization of other records/fields is possible due to additional development.
Users can use already configured synchronization rules for these partitions. If you have a configured Creatio product, you can further configure the sync module yourself or using QuickBooks Connector.
A list of metadata from Creatio and Quickbooks is provided. The user can independently change the corresponding fields to synchronize the two systems. You can also run a synchronization rule on a schedule.
The main option for integration with QuickBooks is two-way account synchronization: when creating an account, information is transferred to QuickBooks, and when updating the status, this data is transferred back.
When creating accounts in Creatio, data is passed to QB. Syncing returns the account status in Creatio.
The initial configuration of the connector is performed by Business Technology experts. Additional user instructions are provided. Syncing mapping of data records can be configured by the end-user in the Quickbooks section of Creation.
Users reviews
Users claim from QuickBooks Review: it's nice that you can create several different types of reports based on what you're looking for, such as what time your business is most loaded, what items are being sold or not being sold, what you don't have in stock, and so on. You can maintain a large inventory system that makes it easy to search for items. It's nice that you can enter all the information you might need when getting a new inventory. Transactions are quite simple., according to QuickBooks Customer Service.
However, there are also some negative reviews, and for example, support is the biggest problem with them. After 30 days of use, you must purchase a support plan, and it's not cheap. Even if there are errors in the program itself, it costs you money. It's not a good selling point.